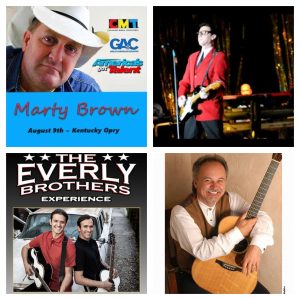 Click here to get your tickets now for the great shows coming to the Kentucky Opry!
Marty Brown, you saw him on America's Got Talent, He's a singer/songwriter, whose biggest songwriting hit to date is "I'm From the Country" He'll perform both the songs of Hank Williams and his own hits at the Opry August 9th!
The Everly Brothers Experience featuring the Zmed Brothers aim to honor the aesthetics of the Everly's iconic sound and honor their unique place in music history all while having a little fun! July 13th
Kenny James as Buddy Holly and Barney Fife. this celebrity impersonator nails both these iconic gentlemen in a fun, fast paced show sure to please, August 10th!
Jimmy Fortune, legendary member of The Statler Brothers, is now on his own and annually sells out his shows at the Opry. August 24th