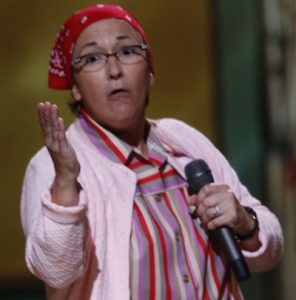 Etta may returns to the Kentucky Opry Friday night February 2nd
get your tickets by calling (270) 527-3869 or go to kentuckyopry.com
What's the best way to describe Etta May? "Minnie Pearl with a migraine." To put it simply, when Etta May takes the stage, she is the reigning Queen of Southern Sass. She reflects "You know you're getting fat when you sit in the bathtub and the water in the toilet rises!"
Born and raised in Bald Knob, Arkansas, Etta May grew up alongside nine older brothers, who referred to their baby sister as "the human sacrifice." In fact, Etta May's parents – her father, a potpourri farmer, and her mother, bedridden by constant childbearing, – did not realize Etta May was a girl until she required a training bra.
Etta May met her husband, Delbert, an aspiring truck driver, at a friend's kegger. From across the yard their eyes locked in a love look. Nine months later, she was blessed with a boy, followed by a girl and two more boys. "That's where my comedy comes from. I just wait for my husband or kids to do something stupid, and then I write it down."
Through the years, Etta May had a string of dead end jobs. She faithfully drove a school bus for over 10 years. She says she learned how to handle unruly kids by Armor All-ing the seats, and touching the brakes, all the way home. One night, while volunteering as a BINGO caller, she recalls, "the ball sucker got stuck, and I was forced to entertain a room full of angry Catholics. It was then I realized I could make people laugh." Etta May, will take you on a redneck ride through the Deep South.